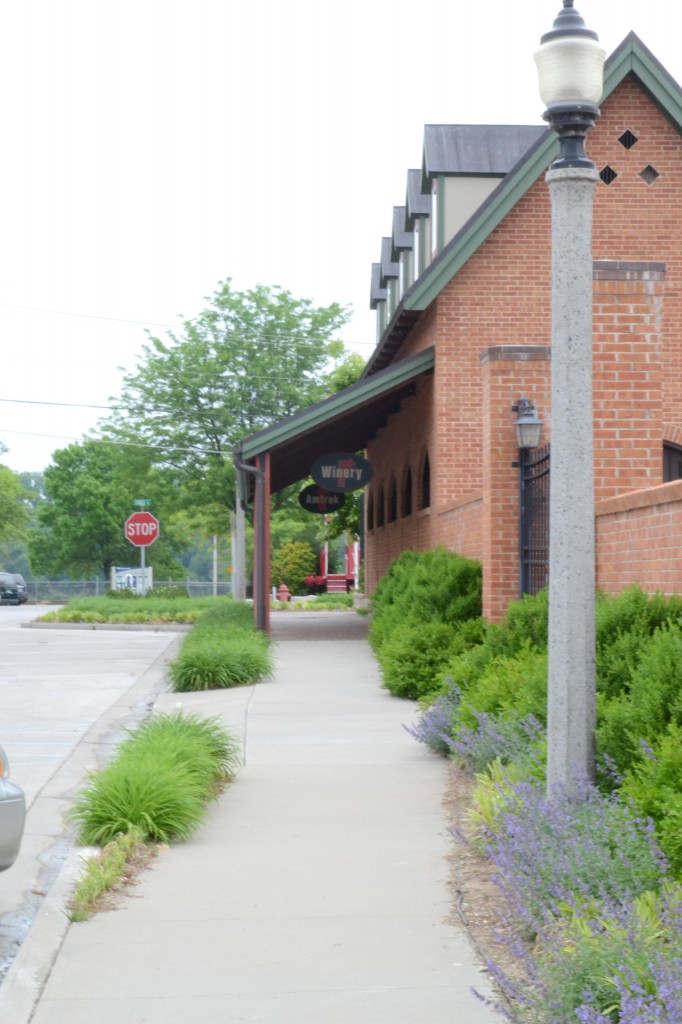 If you live in Missouri and have never been to Hermann, well, shame on you. This fantastic small town plays host to eleven different wineries. Nestled on the banks of the mighty Missouri River and tucked into miles of rolling hills, the views, the beauty, and the quaintness of it all make Hermann one of my favorite Missouri small towns, indeed.
Last weekend was Memorial Day weekend and we're starting a trend of completely choking when it comes to that particular holiday planning. Last year we were going to go to the Pedaler's Jamboree and this year we were going to take our boat out for it's 2014 maiden voyage but neither of those things happened. As many of you know, dreary weather was all that was in store for us on Saturday so I finally talked Robby and our friends in to changing our plans and taking off for Missouri Wine Country.
Our first stop was Adam Puchta Winery. Located just off Highway 100 on the southern end of town, you can feel the worries fly away with each tire spin closer to this winery you get. Just as you turn off, a view of green vineyards fill your windshield. It's absolutely beautiful and was a perfect start to our day.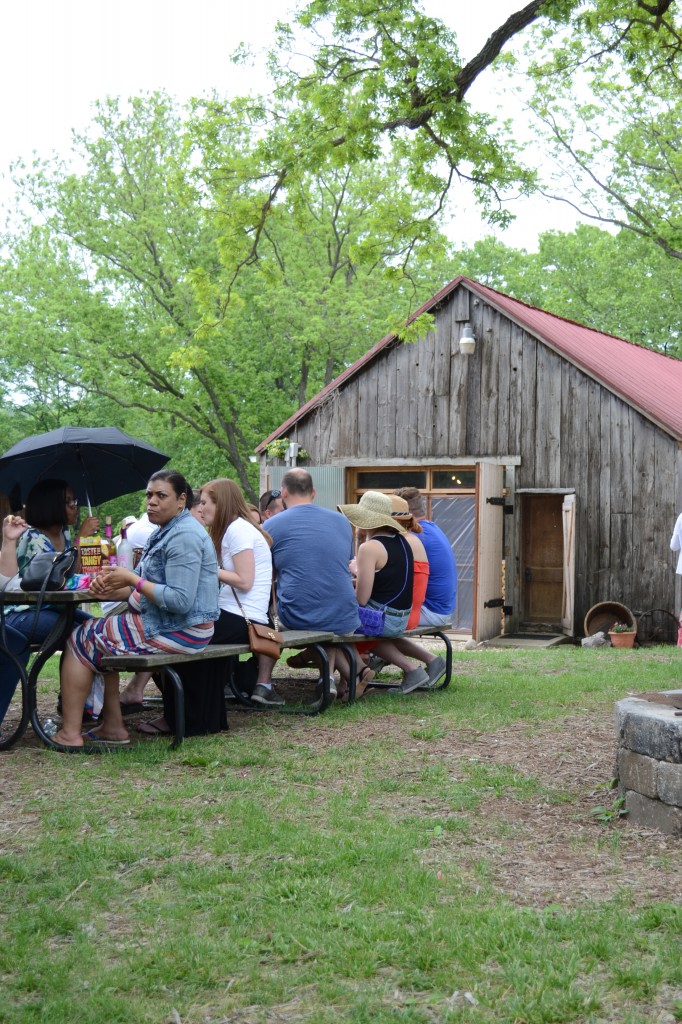 Rustic and weathered buildings outside house areas for wine tastings and food. We opted out of the $5 wine tasting since it was already 4:00 in the afternoon and there were plenty of people in line. Their extensive wine menu explained the flavors of each wine so we simply ordered what sounded tasty.
Robby and I opted for the Traminette. A fruity flavored white wine, this was just a touch sweeter than I normally go for but we enjoyed it none the less.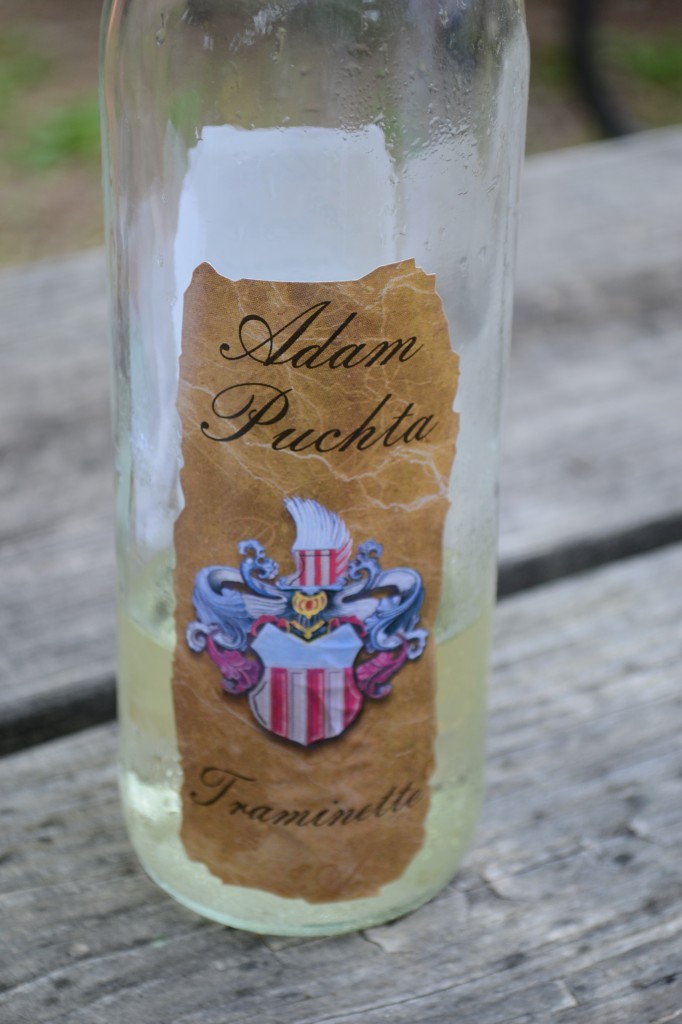 Our friends chose an oakier red bottle, Hunter's Choice. This seemed to be more what everybody at the table was looking for. After we were about to close out our time here, a staff member presented us with another bottle of the red because a lady thought we had told her she left her purse. To that lady I say "thank you", but you have the wrong people. She had already left the winery so we had no choice but to keep it. Disappointed, we were not.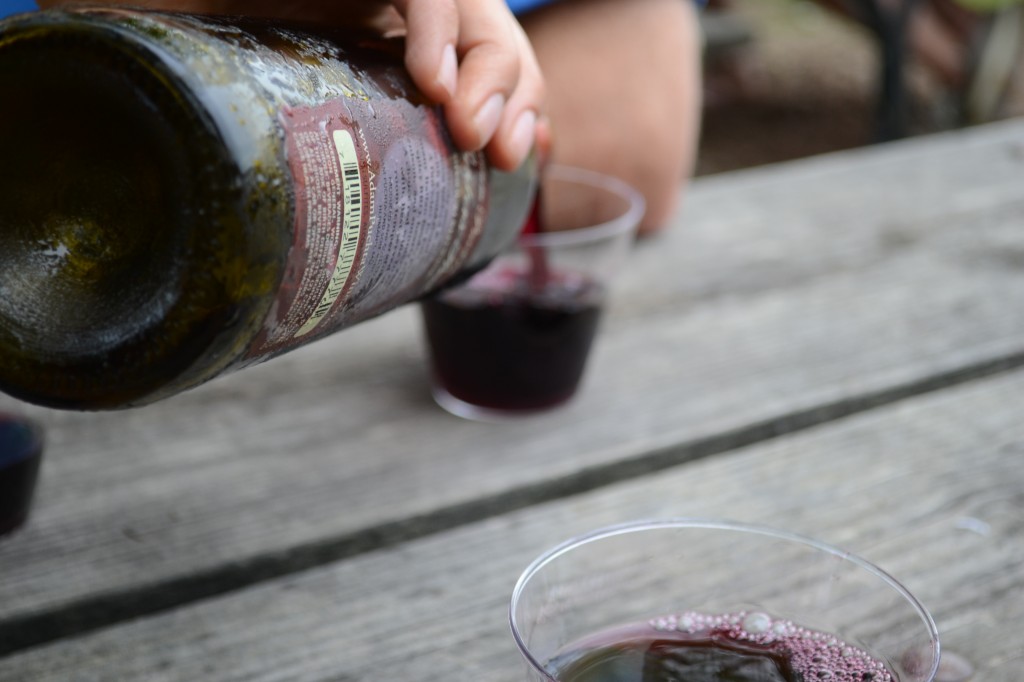 Our next stop was Tin Mill Brewery. We have been here before and always seem to enjoy ourselves.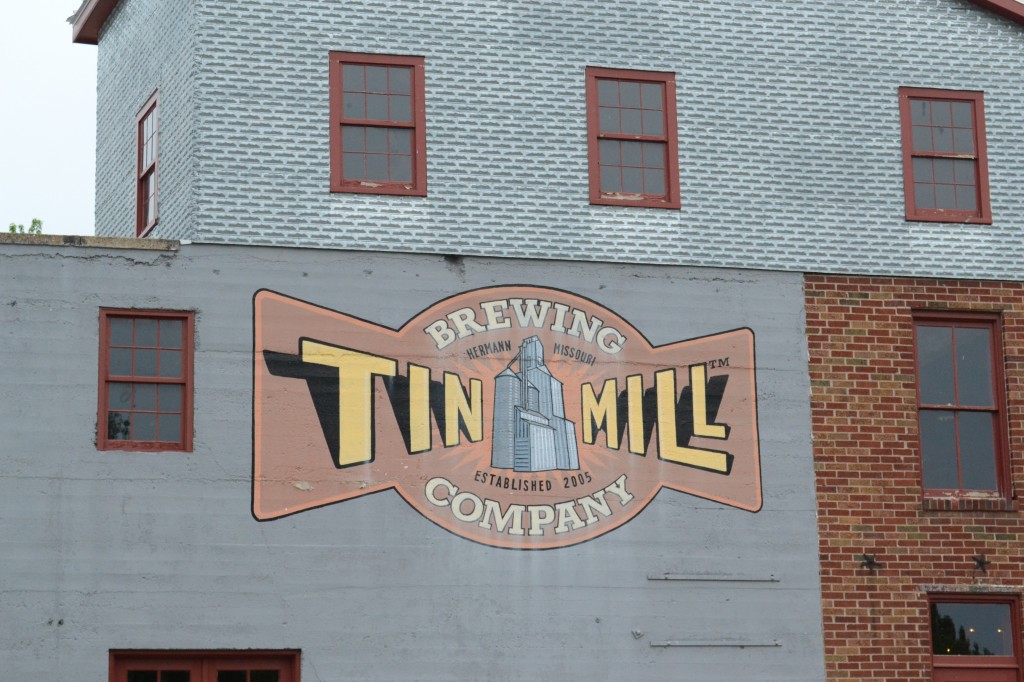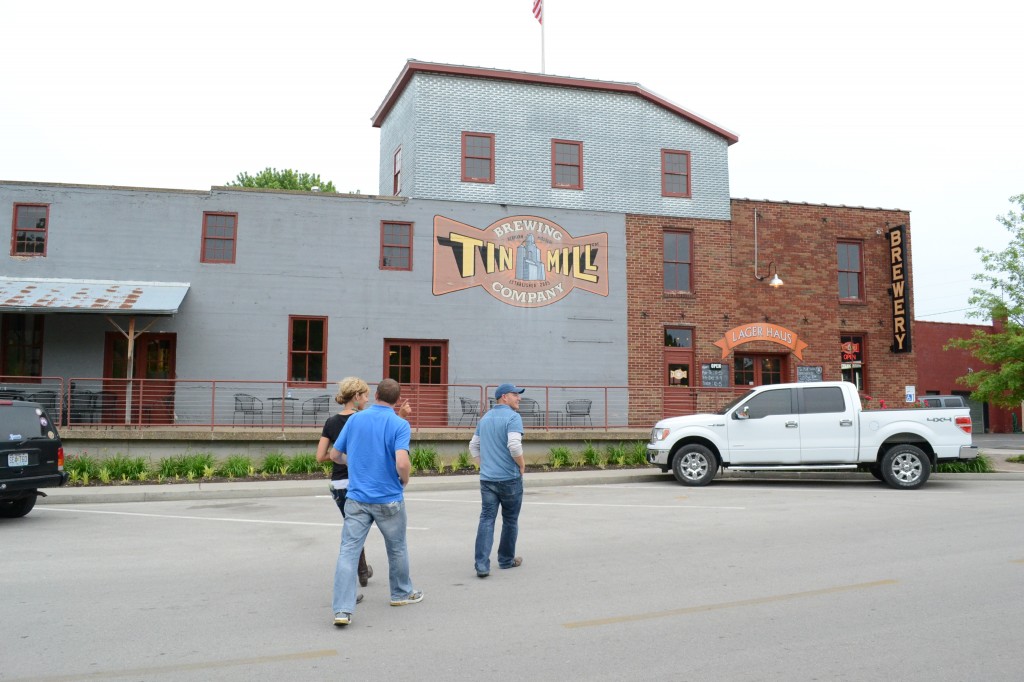 This time was no different except for a horrible little man, who was a staff member, that totally flipped on me because I took a blurry picture of the back of his shirt. The back had a saying which I thought hilarious at the time but after his over-the-top rude demeanor leading to me deleting my two blurry pics, I can't even remember what it said. But him, him I will remember. Another employee did apologize for his terribleness and gave some lousy excuse about him having a bad day. But I rose above his nonsense and bought my little sampler tray of delicious microbrewed beer.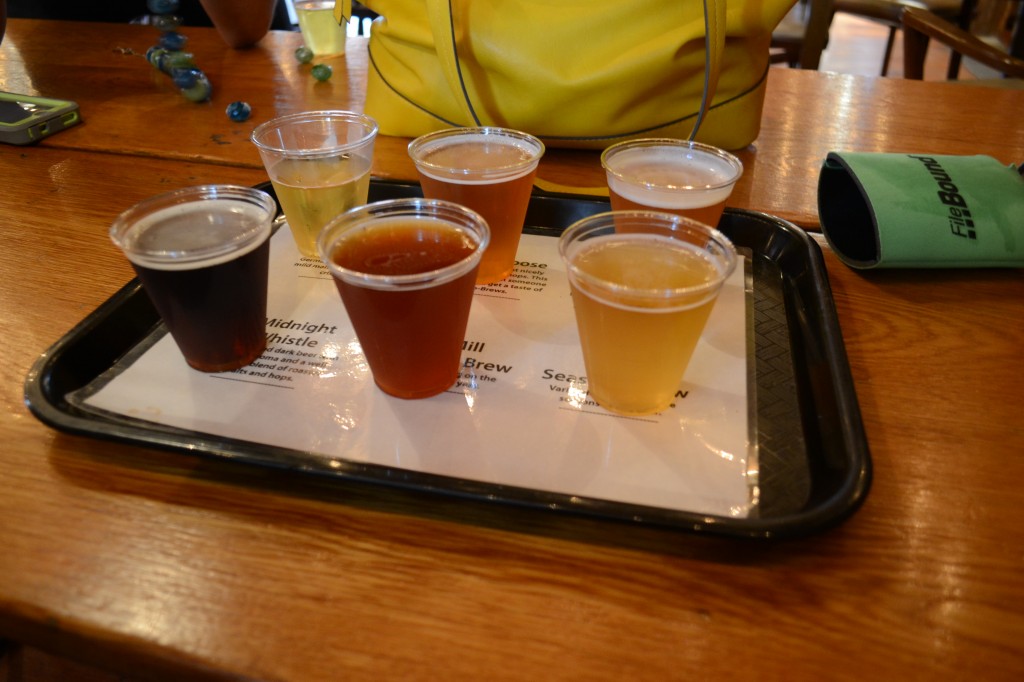 I couldn't remember which brew from Tin Mill was my favorite so the sampler tray was nice to get a little taste of each. Which in the end turned out to be plenty of brewsky for me. The weather of the day had turned pretty nice by this time and we were able to sit outside on the large patio for the rest of the evening. Fun was had by all.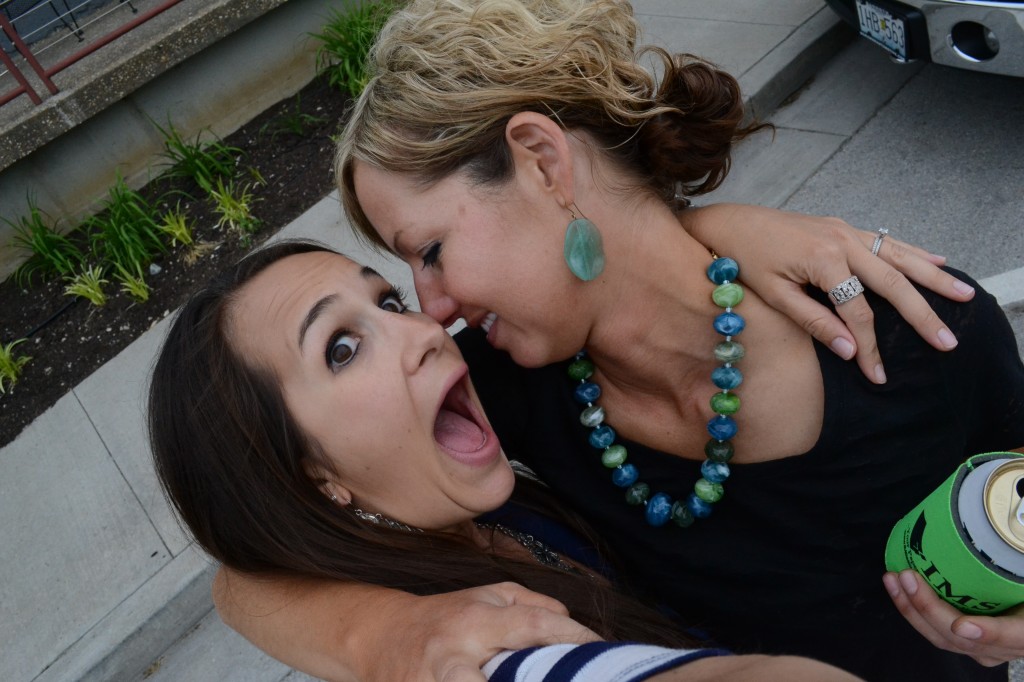 If we had planned better, we would have taken the train from Jeff City. We did that a couple of years ago and it makes the trip feel more relaxing yet when you don't have to employ a sober driver and everyone can let loose a little. Plus the train ride along the Missouri River has excellent views. The trolley will pick up at the train station and shuttle you to the different wineries for a nominal fee. Also, there are several little cabins for rent in the town (I know Hermannhof Winery has some that are supposedly quite lovely) that you could book if you planned your trip ahead of time.
For those of you that have been to Hermann, which winery is your favorite?