A couple months ago, the hubs and I were privileged enough to enjoy an adult-only weekend getaway to Honky T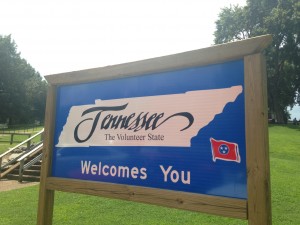 onk City, a former residence of ours. While it proved difficult (we always forget this part) to leave behind the kiddos, it allowed for some much needed couple-bonding time and relaxation without the worry and stress of keeping up with little ones.
We started the drive late on a Wednesday evening and stayed somewhere in Illinois. First thing in the morning, we left the hotel and continued the rest of our drive. We got into Nashville about 1:00 pm and immediately headed for our hotel. We stayed at the Hyatt Place, on 3rd St just a couple blocks off Broadway. Our trip almost got off on a really bad start. I made the reservations for the wrong dates! Who does that???. But thanks to Expedia and Ally at the Hyatt Place, our original reservations were able to be cancelled and Hyatt Place was able to find us a room for the nights we needed.  They even gave us complimentary parking (normally $20 per night) just because of all the stress we had endured so far.
After we settled into our beautiful, clean, comfortable room at the Hyatt, we moseyed down to catch some drinks and live music on Broadway. We hit Texas Roadhouse first then wandered through a few more bars before we grabbed a table at Rippy's. It was a Thursday afternoon, but this place already had a mostly full house. A guy and gal were singing acoustic tunes and we were reminded how good it is to have live music so readily available.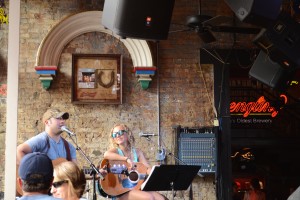 Once our hunger started creeping up on us, we walked back to the hotel to get cleaned up for dinner. Thanks to some blogs I regularly follow (Camels & Chocolates), I knew we were supposed to make reservations if we wanted to eat at a decent time. We hadn't done so for our first night but we were lucky enough to get to the The Southern Steak & Oyster (just down the street from our hotel, about a three minute walk), before the dinner rush hit. Once we got seated and ordered our food, it took about 45 minutes to get our meal. The waitress was very apologetic and apparently they had some "printer malfunction" but for my impatient husband, the damage had already been done. My steak was good (not great-especially for the price) and was actually a little on the cold side but the atmosphere was relaxing with it's dim lighting and intimate atmosphere.
We were so excited to find The Listening Room Café just across the street from our hotel (found this gem on Camels & Chocolate and also in Southern Living mag) and ended our first night listening to originals by Nashville's own. Because it was just a Thursday night, there was plenty of seating but once again, best to make a reservation.
My original plan for Friday was to meander down to the cutest town ever, Franklin, and do a little small town exploring. Robby wasn't big on this idea and we were wanting to catch some rays that afternoon anyway, so instead we started the day checking out the new "it" neighborhood, 12 South. Of course we had to do some guitar shopping right off the bat. Not that Robby bought anything, but it's always a fun thing to do in music city.
I wanted to stop in White's Mercantile (learned about, once again, on Camels & Chocolate). This eclectic shop boasts an entire store of items nearly all manufactured in the USA! Talk about falling in love! What a great concept. And the smells swirling around the store were heavenly.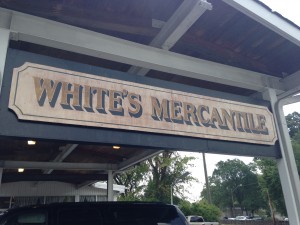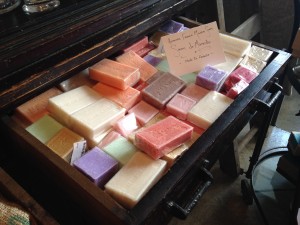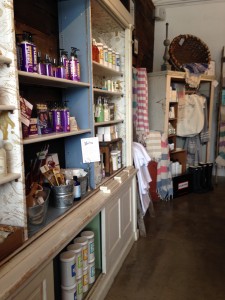 By this time, it was time to seek out something for lunch so we crossed the road and were lucky enough to get an outside table (hello perfect and completely unseasonable August weather!). Burger Up served us burgers that were not only delicious but were also more than plentiful. The beef was local farm-raised and once again, the atmosphere was so relaxing for an afternoon meal.
In an attempt to get at least some sunshine on our mini-vacay, we headed over to Nashville Shores on Percy Priest Lake and rented a tandem kayak. Robby did a little fishing while I caught up on my vitamin d intake. The fishing was good, the sunshine and Yuengling beers were even better. It only costs us $40 for 2 hours of kayak rental. And no, you do not have to purchase admission to the water park to get to the rental stand. Just tell the gate attendant that you are going to rent kayaks (or canoes or jet skis) and they won't even charge you to park.
We had a reservation for the FarmHouse Restaurant on Friday night. I had made the reservation for 6:30 and we were able to be seated right away, even though we were 20 minutes early. Much to my dismay, I was unable to order a margarita because they only serve American drinks and of course tequila isn't one of those. We started off with the deviled egg appetizer which was a very flavorful dish.  I had the catfish dinner and we had to try the cornbread I have heard so much about. The cornbread was absolute heaven, the entrees were good but a little too high class for mine and Robby's simple palettes. The atmosphere was beautiful, the concept is phenomenal (all food comes from local farmers), and the service was outstanding.  Once again, this restaurant was basically just behind Hyatt Place. I couldn't have picked a more convenient location if I tried!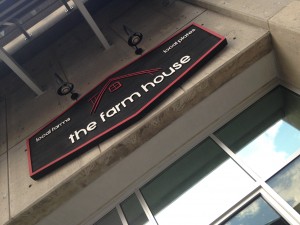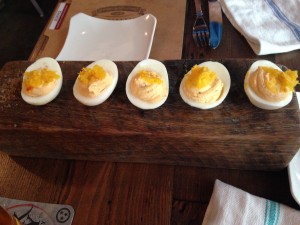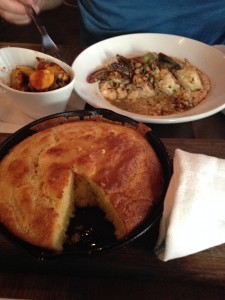 After our meal, we headed back down to the Listening Room for another songwriter night. The place was pretty well packed on Friday and we were just lucky enough to snag the last table. This night was probably our most enjoyable, as the writers were really feelin' it and put on quite a show!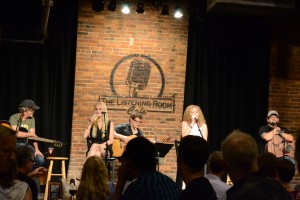 (Note: the picture shown above was of our first night. The second night, Phil Barton (writer of Woman Like You sung by Lee Brice) was on stage and had me and Robby so pumped! He did an awesome job of entertaining!)
As the evening here abated, we headed back up to Broadway in an effort to listen to my fav Nashville bar band at the Trailer Park Bar. I was heartbroken to find that it was a whole different band so we stayed for a while but headed back to the hotel somewhat early, bearing my heart in my hands.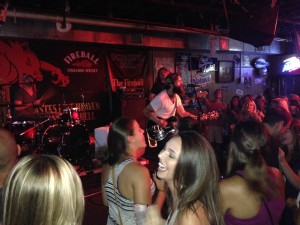 Saturday morning we took off late morning and headed east towards Cookeville. When we lived here before, I read about a secret watering hole (in Southern Living) at the bottom of the most gorgeous waterfall. We were dead set on finding this spot again. Although we were relying solely on memory (of some 5 years prior), we were sure we'd be able to find it. After we drove around for some time, we realized that our "secret" spot had been turned into a state park and the parking lot was COMPLETELY PACKED. I was heartbroken once again but since we had already driven so far (about an hour and a half from our hotel) we thought we'd at least check it out. The park ranger on duty is a local and we got to chat with him about the way this area looked before it became state property, now known as Cummins Falls. It is about an hour walk/hike to get from the parking lot down to the falls. Several weeks before, I came up with a knee injury and this "walk" down proved to be pretty difficult for me. Some family even had their old granny out with them and she was all skinned up from where she had taken what looked to be quite the tumble. She was having the most terrible time trying to get back up the steep hill to the parking lot. FOLKS, DO NOT TAKE YOUR OLD GRANNY TO CUMMINS FALLS. NOT SAFE. There, my PSA for the day. You're welcome.
Here is what Cummins Falls looked like on this particular summer day: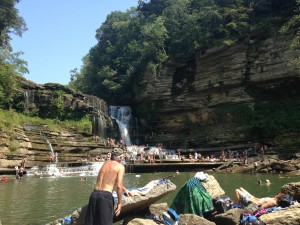 This is what I knew Cummins Falls to be: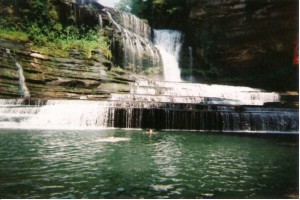 LOOK AT THE GLORIOUSNESS (pretty sure that's not a word but my blog, don't care)  OF HAVING NOBODY AROUND! I'm so downtrodden this magnificent place is now a state park. So, while it remains beautiful. Be sure and go during the week and the time of year when school is in session. There looked to be a lot of college kids around. Trust me, it would be much more enjoyable.
We got back to the hotel that evening just in time for us to get cleaned up and go find some grub. I had started off the weekend by expressing that we were not going to be eating at any chain restaurants because there were way too many locally owned places that I wanted to try. However, we really had a hankering for some seafood and at a decent price so we walked down to Joe's Crab Shack. Atrocious, I know. But I'll tell you, I had a great meal, I got a full belly, and I got my seafood. Win, win, win. After dinner, we hit up Broadway for the last time and got tired quite early so we settled into the hotel at a decent time. (I can't believe I haven't yet mentioned how crazy comfortable the bed and the pillows were at Hyatt Place. CRAZY COMFORTABLE! Not exaggerating at all!)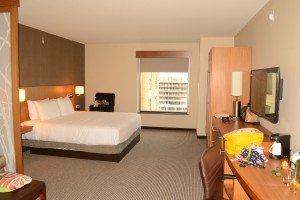 If you're in the market for some weekend getaway ideas to Music City, shoot me an email, or post your questions here. Enjoy!