I've had a hard time writing lately. Although I have been working on this story intermittently for months now, my heart just hasn't had the time or effort to give this the attention it needed. Between starting a new job, my mother falling and breaking her hip, having surgery, spending a month in rehab, and then having another fall with a broken arm, surgery, and rehab, followed up by the stress of the holidays, I've felt a little less than write-y. And, I really haven't gone anywhere worth talking about in quite some time.
Except way back over Labor Day (yes, I know that was months ago but like I said, I've been a little busy). I talked Robby into taking advantage of the long weekend. My old job allowed me to have (mostly) 4 days off each week so I could easily take long weekend trips. However, my new job is a Monday through Friday gig, which allows me stable hours that are much better for my family, but my long weekends are adios. So, you have to soak it up when you're able, right?
We chose St Charles, MO because a) it's not a far drive from home (1.5 hours) b) we had never been there before and c) it looks cutesy and quaint and I love little towns like that.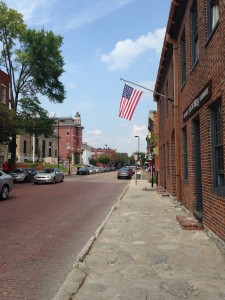 We left on Friday evening after dropping the kiddos off at Grandma's just before bedtime. We got to St Charles just in time to check in to our hotel and crash. We stayed at the Country Inn and Suites on Main St. I would have preferred a bed and breakfast but Robby isn't really into bed and breakfast's and he reserved the hotel so complain, I could not.
The Katy Trail sat just behind the hotel so that provided easy access for our morning bike rides. We started Saturday morning with just that and got our workout in for the day first thing.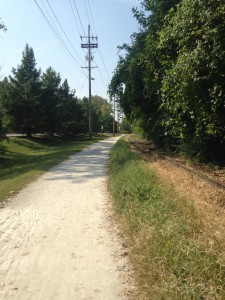 Contrary to the looks of the above picture, it was actually quite crowded on the Katy this particular morning. The trail starts off in the heart of St Charles, running alongside the buildings of Main Street. Eventually, it meanders parallel to the Missouri River (which provides for those spectacular cycling views), past the ball fields, past this extremely organized junk yard, to the fields outside of town.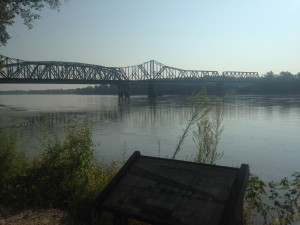 Once we turned around, we had gotten quite thirsty and stopped at the Bike Stop Café for an early morning sweet tea.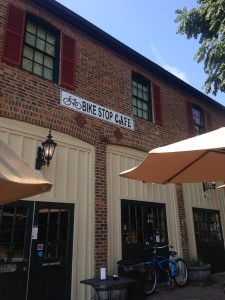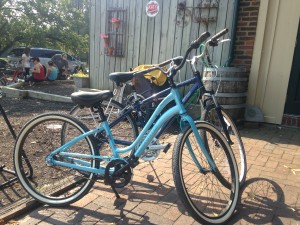 The café sits just alongside the Katy Trail access and has a small menu, area for a bike workshop, and some other cool bike gear for the enthusiasts out there. We sat on the patio and soaked up the morning sun while chatting about how the rest of our day should go.
We dropped by The Old Millstream Inn restaurant for lunch, after cleaning up back at the hotel of course. I can't say enough wonderful things about this spectacular little restaurant. We had a table outside on the brick patio, which was seated right next to a babbling brook. Yes, you read that right. There is literally a babbling brook here. The service was great and the food was even more wonderful. I had the chicken salad sandwich and a side salad which both had flavors that I have never had the pleasure of experiencing before.
Once we got to the point that we just couldn't eat anymore food no matter how delicious it was, we sat off on foot to wander the walk-friendly streets of this little city. The brick lined streets reminded me so much of my hometown, Fulton, MO, that the nostalgia made it hard to not like the area. It was fairly busy because of the holiday weekend but still easy to walk up and down the streets, dodging in and out of the stores. I love locally owned stores like the ones here on Main Street because of their uniqueness. The things on the racks here aren't something you can find in TJ Maxx. I'm not big on spending unnecessary money so I didn't load myself down with shopping bags but I did manage to come across a few good finds (like a beautiful $5 scarf that I caught on sale). The best part of the shopping experience is looking at the architecture of these old buildings. One store still had the ladder on the rail and the original shelving, as it used to be the town's hardware store. Stories like these are so fascinating to me. I love old buildings and when you can get a small story with it, it just makes it so much better.
The storefronts of the buildings along Main St used to be located on the back side of the buildings, which is located closer to the river and down quite a few more feet. Because of this, these buildings flooded a lot. To keep businesses open, they rearranged things and made the previous back entrances, now the front entrance of the shops on what is now Main St. The picture below shows cellar access right along Main St (which used to be the back but is now the front of this particular building).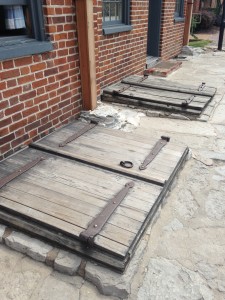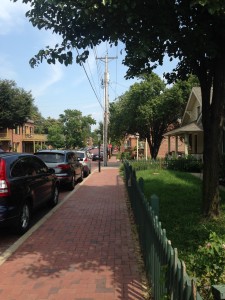 We took a break in the middle of the shopping and grabbed a cold drink at Llywelyn's Pub. We sat on the patio drinking and people watching. The pub is right on Main St so the people watching is top notch. After we had hit all the stores that looked appealing to me, Robby convinced me to get a pre-dinner drink at Bella Vino Wine Bar. It was a busy weekend and hence it was quite busy in the wine bar. We managed to get a cozy table for two right along the front windows (once again, excellent people watching) and close enough that we could enjoy the music from the man at the piano.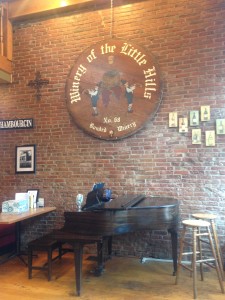 For dinner that night, we chose the highly recommended Tony's on Top. Once again, this restaurant lies right on Main St and was an easy walk from our hotel. It was a beautifully hot weekend (my motto: the hotter the better), which we took full advantage of by choosing a rooftop, outdoor table. The food was good (although I don't particularly remember what I had so I don't think it blew my socks off) and the service was decent, even though it appeared the servers didn't actually know who had which table. But we didn't get ignored and that's the important part.
After we got our bellies full and had a nice little after-dinner buzz, we headed down the street to meet up with the group for our scheduled ghost tour with St Charles Ghost Tours. Ghost tours are always my favorite. We've been to one in Charleston, Savannah, and a couple in Key West (Savannah's was the best so far, by far). Dr Michael Henry is the owner and operator of St Charles Ghost Tours. He gave a nice little introduction of himself to start the tour off and lead the group of 15 or so around the local streets and alleged haunting sites of St Charles. Dr Henry is a decent story teller and he sounds like a man very well versed in St Charles history for sure. During the last stretch of the tour, he made the mistake of telling us how he purchases junky dolls from flea markets for a couple bucks, hangs them outside on his fence to weather (his poor, poor neighbors), and then sells them on Ebay for several hundred dollars with a made up ghost story! Oh my Dr Henry. See, there is this thing called credibility. And yeah, you just lost yours. He's got a book if you're interested….. Pssshhhhh.
We started Sunday off with a late breakfast at Bradden's. Robby and I are really big on the atmosphere and experience of a restaurant. Bradden's almost lost us when they mentioned  we were going to have to wait 20-30 minutes to order because the kitchen was busy. They were barely, just barely nice enough to let us sit down and all this for only a small handful of people on the patio. There was no way it was busy enough to not serve us. And we would have even been fine to wait had they offered us drinks but we had to fight to get a cup of coffee. The service was absolutely terrible but I will give credit where it is due and they served me a phenomenal French toast plate. "Thee" French toast is a deep fried concoction of delicious French toast heaven like I have never experienced before. Please, please, please if you go to Bradden's, do yourself a favor and order the French toast. You can thank me later.
Robby arranged for us to have a tee time for my first ever golfing experience that afternoon at The Quarry at Crystal Springs. This golf course was about a 20 minute drive from downtown St Charles. Once again, it seemed pretty busy this particular holiday weekend but we had a pretty pleasurable experience. That is, after the first 9 holes when Robby kept getting so mad at me for taking an average of 8 swings for my club to make contact. Once he lightened up, we actually had a lot of fun and surprisingly I wasn't near as bad as I thought.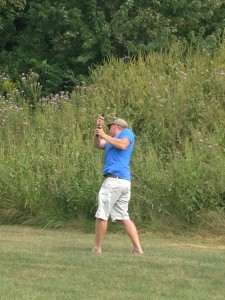 18 holes of golf takes a lot longer than I realized and after that and the hot, hot, super hot day, we were ready to get cleaned up and have a beverage or two. From our hotel, we walked just a block or two down the street to Trailhead Brewing Company. We chose the bar over a table just for the fun of it. I indulged in the Riverboat Raspberry brew and the Trailhead Nachos. Microbrewed beers are just our style and the place has a highly inviting atmosphere. I also ended the night with a margarita at the Trailhead Brewing Company which was delicious no doubt, but admittedly not the wisest decision.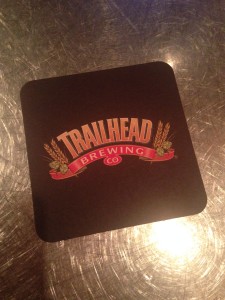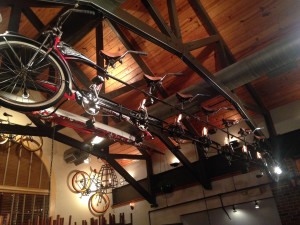 On Monday, we slept in a little later than normal (see above: margarita to end the night) and grabbed a quick breakfast in the lobby before heading back home. In parenthood, you always have the thrill of getting away but you are also always ready to come back home to those sweet-faced kiddos. St Charles was great for a quick weekend getaway and was just enough to get the reset that we needed.