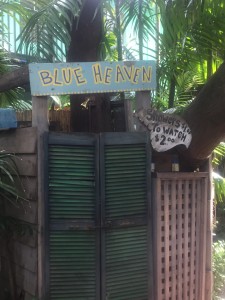 If you've read into my blog much at all, you'll easily see that I'm just a little obsessed with Key West. We just got back from our fourth trip, so prepare yourself for another round of endless Key West posts;-) Don't say I didn't warn you……
Our first night on the island, we got in super duper late, or super duper early however you wish to think of it (2:30 am no thanks to American Airlines). We got up a little later than normal but felt refreshed by the salty, ocean air and hit up none other than Blue Heaven right off the bat.
If you've done any research into Key West at all, you'll know that Blue Heaven is a must if you're there; the "six-toed cats meow", if you will. I know they've got a famous Lobster Benedict that so many rave about but I'm not a "benedict" kind of gal so I've steered clear from that.
We were lucky enough to get in without much of a wait. Last year we were told it would be a 45 minute wait but since we got there before the rush this year (and did this on Friday as opposed to the weekend) we only had about a 20 minute wait. Easy enough, as there's a bar adjacent to the music stage where a four-piece band was cracking out the tunes bright and early.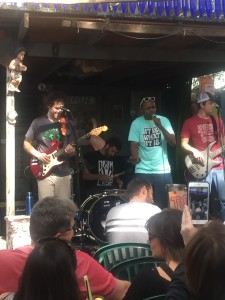 Waiting isn't so bad when you have a cold beverage and live music, right?? So we saddled up to the bar, where Robby ordered his usual morning drink, a Bloody Mary. As much as I want to like the Bloody Mary (what's not to like: tomato juice, celery, olive, spice) I just can't. I try it time and time again hoping that one day my taste buds will properly develop into loving the drink that I know I should but as of this trip; nope, still not yet. My first indulgence was one of a Heaven's Punch. Mmmm Mmmm Good.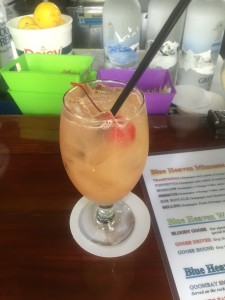 True to their word, we were beckoned to be seated right at 20 minutes where we were directed to our outdoor table. They do have inside seating but come on! You're in Key West! You can't eat inside!!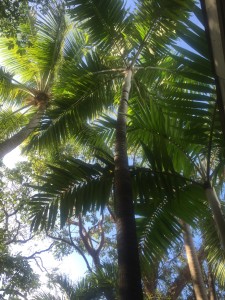 I felt in the mood for a traditional breakfast and ordered the Rooster Special. Eggs cooked to order, bacon, breakfast potatoes, and two cakes. The pancakes were light and fluffy and perfect when topped with the fresh maple syrup. Robby ordered the omelet paired with a side of banana bread that he swears is the best banana bread he's ever put near his mouth. I don't know that I'd take it that far (he may have just been under the influence; everything tastes better in Key West) but it was quite moist and delicious.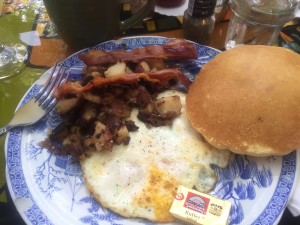 I couldn't help but get into the Key West vibe and order another beverage to coincide with my coffee and breakfast; Mango Fandango was next on the list but not as pleasing and the former. This drink was more sour than the Heaven's Punch and though all the ingredients sounded like the perfect blend, it just wasn't what I was going for.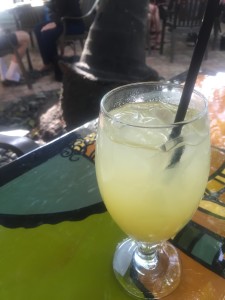 Sour drink or not, the moral of the story is that if in Key West, one must eat at Blue Heaven. It's the Southernmost Island landmark that you won't regret visiting.