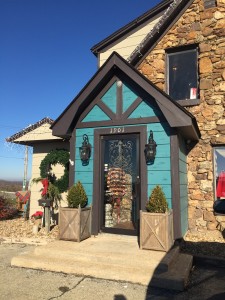 Back in December, several weeks before Christmas, I realized it was SEVERAL WEEKS BEFORE CHRISTMAS!!! Panic quickly set in, the morning I heard on the radio just how little time I had to get my shopping done, cookies made, gifts wrapped and holiday party hosted.
This also happened to be the week that I was having a Mini-Mommy-Meltdown. You know those weeks. The times you don't want to crawl out of bed and be all adult-y. The times that you want to just come home, slip into those beautiful, black, uber comfy yoga pants and slide straight in between your bed sheets to indulge in that slightly trashy romance novel that you are almost ashamed to admit you love.  Those times that I am certain every single parent has but doesn't want to admit to having for the fear of looking weak or like you don't really love your kids….
It just so happens, an opportunity came upon me at the height of my Mini-Mommy-Meltdown. (And by meltdown, we all know that nobody knows you're actually having a meltdown. You keep that all inside right??) So, like the good little nurse I am (wink, wink), I volunteered to make my way from Columbia to Rolla to have a quick visit with a client.
With my travel mug full of fresh, black coffee and the most gorgeous drive through rolling hills into the sunrise, I made my way from Jefferson City into the town of Rolla. Just as I entered town, my attention was caught by a unique sign, "Front Porch Boutique". Colorful with a rustic edge, my interest was piqued and I planned to stop in for a little holiday shopping once my work was done.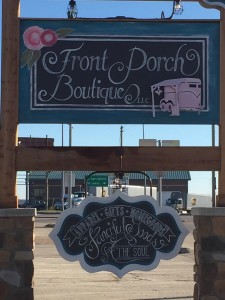 I got finished early and had to wait for the shop to open (they opened at 9:00am on this day) but relished in the silence of my car with my fresh coffee refill, surfing through the ridiculousness that is Facebook.
All it took was one step over the threshold to realize I was in shopping heaven. I have never been a fan of box stores that have variations of the same exact item as every other box store. A retail store that has taken the time to carefully pick out their inventory as if selecting it specifically for each individual customer will win my vote every time.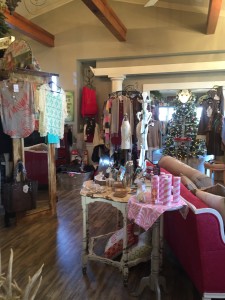 As I meandered through each nook and cranny of this store, one section at a time, I fell in love. Pure shopping love. Front Porch Boutique has gifts for nearly anybody and everybody. They have clothes, boots, knick knacks, food, headbands, dinnerware, things for kids, things for the men in your life, things for the women,you name it.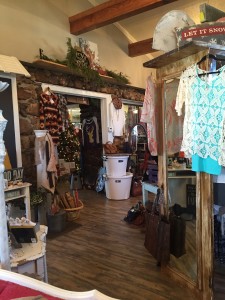 I got my sisters each some gifts and I ended up maybe, just maybe, buying even more for myself. For me, I got a peach dress (made in the USA! which I find awesome), a blue jean dress, and a very soft, cozy oversize cardigan for those cold winter days where you just need to be wrapped in comfort.
I easily spent an hour roaming and digging and searching for those perfect, unique trinkets that you decide you can't live without. I found myself going back through rooms a second time and kept finding something I hadn't seen the first time around. I believe I even had to put some things back on the shelves in an attempt to restrain the shopping frenzy that had overcome my senses.
The next time you're in the throws of your Mini-Mommy-Meltdown, or Daddy-Downer-Days, make your way to the door of Front Porch Boutique in Rolla and gets your spirits up with a little retail therapy. Trust me, it'll do you wonders!