As most of you know, several weeks ago I ventured to the Big Easy to attend a conference for work. I was more than happy to go as I not only love learning but also love seeing new places. And surprisingly enough, out of all the places in the South I've been, NOLA wasn't one of them.
We arrived around noon on a Monday and had pre-arranged the shuttle for our transportation to the hotel. There are cabs a-plenty in New Orleans however the ride to the hotel was about 20 minutes. It'd be best that if you're staying down by the river or near the French Quarter, you arrange for another sort of transportation.
Our shuttle chauffeur was kind enough to give us lots of welcoming advice about NOLA, most of which I quickly jotted down in the notes app on my iPhone.
St Charles Streetcar (the green car not the red car)
Red Fish Grill
Oceanas in the French Quarter (they did serve us a great lunch!)
Cafe Beignet for the beignets
Cafe Du Monde
We kept hearing about Cafe Beignet and had already been given a raving review about Cafe Du Monde, which also serves beignets. We were sure to dive mouth-first into the beignets right away and I was lucky enough to get two consecutive days of the powdered sugar mounds of deliciousness. Read about my trip to Cafe Du Monde here.
2. BB Kings Blues Club
After the first day of conference overload ended, we took our appetites down to BB Kings Blues Club in the French Quarter. We were relieved to see live music and even more relieved when we got served a heaping bowl of jambalaya, which was amazing. I always try to steer clear of the franchise-type restaurants but BB Kings had great food, southern hospitality service, and a great atmosphere that welcomed you to come in, pull up a chair, and have a drink. Which is exactly what we did.
3. The French Quarter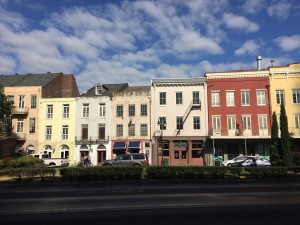 One morning on our walk back to the conference hall, we had some time to kill and decided to meander through the French Quarter more. I was impressed to see that the city literally washes, with soap and water, the streets every morning. Although after you witness the level of libations and the appallingly large population of homeless people, you understand why they need every last drop of that soap. That morning in particular we were pleased to find a pianist playing in the street, even at the 8:00 hour. It always makes me smile to see street performers.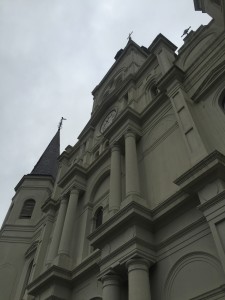 4. Creole Queen Paddlewheeler
Mid-week we boarded the Creole Queen paddlewheeler for an evening on the Mississippi River. Open bar, appetizers, jazz music, and fresh air are always a great combination. There's a certain 1920's feel that envelopes you when you step on a paddlewheeler boat that's rocking out to some classic, live jazz. This proved to be an enjoyable, relaxing evening and I so enjoyed seeing the lights of the city from the middle of the Mississippi. 
5. St Charles Streetcar Line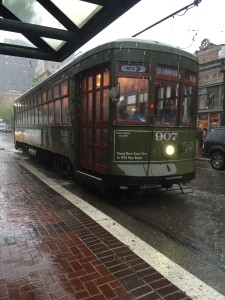 The last day we were there, we finally had a chance to carve out some time to walk up to the bus stop on St Charles street to catch the, appropriately named, St Charles Streetcar Line. The driver had explained during the drive on Day 1 that this line (the green line not the red line) would take us through the historical garden district to see the old plantation homes. Of course, this got my attention as I am a die hard historical architecture lover and typically salivate when standing in Southern Plantation grandeur.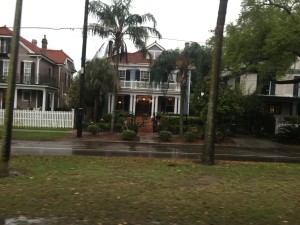 The green trolley was a good way to get a cheap ride through the Garden District but the "plantation" homes weren't what I had in mind. They were beautiful homes, don't get me wrong, but not the southern plantation homes one typically conjours in their mind, as they were packed like sushi for blocks on end. Still yet, this day in particular was raining and we got to stay dry and still got to take in some sightseeing.
6. The French Market
I wish we would have had some time to hit up the French Market down by Cafe Du Monde. On one of our cab rides, we drove right past as some of the last vendors were putting away their goods. I think I could have scored some awesome items but then would have had to figure out how to get said items home. So, I guess it was meant to be. Or should I say, not be?
Pan's takeaway from NOLA:
If you like to party, you'll love NOLA.
If you expect to see Tara (as in Gone With the Wind plantation home), you'll be disappointed.
Four days was plenty, and most of mine was even spent in a conference hall. I've seen all I need to of NOLA honestly.
Tell me, what are you thoughts on the Big Easy?