Several weeks ago, I had an old friend ask me for some travel advice. Him and his fam were driving to Florida but planned on stopping in the country music capital, Nashville, for a night. He wanted to know some good things to do for a family-friendly, Nashville vacay. When Robby and I lived there, we were kid-free and we've only been to Nashville once with sweet baby O. I had to dig deep into the gray matter (aka brain) for kid-friendly attractions.
Here's a short list that I put together for him:
1. TAKE IN A SHOW AT THE GRAND OLE OPRY
I will never forget my experience at the Grand Ole Opry. Robby bought us tickets on our first trip to Nashville. Carrie Underwood was surprised by Randy Travis, after she sang his famous song I Told You So, and invited by him to be a member of the Grand Ole Opry. It was awesome to witness this.
2. VISIT THE ATRIUMS AT THE OPRYLAND HOTEL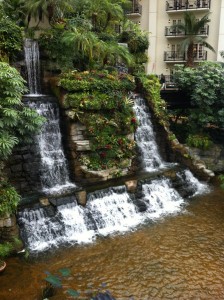 If you want to read more about our hotel stay inside the Opryland Hotel (which is completely gorgeous), you can find it here, here, and here.
3. HIT UP THE BARS ON BROADWAY
Ok, I know what you're thinking. These are all bars and totally inappropriate for children. Well, yes and no. If you go during the day, there is virtually nobody in any of these places (the rowdy ones are still in their hotel sleeping off the hangovers). You can grab a pop and still listen to some live music, without putting you and your family's lives in danger.
4. THE BELLE MEADE PLANTATION
You get a good history lesson and get to soak up this beautiful estate. We thoroughly enjoyed our tour. This is a good thing to do if you're needing to fill a couple hours.
5. DRIVE THROUGH BELLE MEADE AND BRENTWOOD (SOUTHWEST OF TOWN)
Even if you don't know whose homes you come across, you can imagine all the celebrities that it could be. These homes are absolutely jaw-droppingly gorgeous!
6. CHECK OUT THE PUBLIC BEACH ACCESS AT OLD HICKORY LAKE
When we lived in Nashville, I spent most of my days off soaking up the rays at this beach. Find the lake just north of Nashville, in Old Hickory/Hendersonville area.
7. THE OPRY MILLS MALL
Compare any of the malls in Nashville to the malls I'm used to here in Missouri, and it really puts them to shame. This mall is located just next to the Grand Ole Opry and the Opryland Hotel.
8. GET WET IN THE WATERPARK AT NASHVILLE SHORES
This nice waterpark is located just beside the Percy Priest lake, near the east side of town.
9. GO BOOT SHOPPING!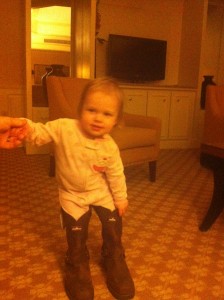 Pardon the horrible picture. Robby bought new boots on our last trip and Olivia was dying to try them on. Of course, no trip to Nashville would be complete without snagging a new set of kickers. (Inside info: There is a boot store on Broadway that sells 1 pair of boots and you get 2 free. Grab 2 other friends and you have yourself one heck of a deal!)
10. RYMAN AUDITORIUM
This gorgeous structure is located downtown. It is the original opry house that still houses the Grand Ole Opry shows during the winter months. Lots and lots of history are inside these walls.
If you have any more family-friendly things to do in Nashville, make sure and add them to the list in the comment section!