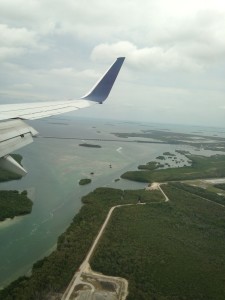 How did our world ever come to this? Charging fees for our checked in bags?!?! It's atrocious but I definitely don't see it going away. So the world of travelers is just going to have to get used to it.
We just returned from our much anticipated trip to Key West several weeks ago. I was bound and determined that I was not checking my bag. I. WAS. NOT. Not only do you have to pay money to bring your luggage with you, the hassle of checking it in and worrying about the airlines losing said luggage was not something I wanted to start my trip with. And I knew once my feet touched the holy ground of Key West, I did not want to spend time waiting for my bag to unload.
First I laid out everything I wanted to take with me. Then I re-evaluated every item and really thought about how necessary it was to my trip. Here are the items I brought:
Camera phone and charger (I opted not to take my dslr camera because it is so big. I brought a small cross body purse that is easy to travel with and I knew I wouldn't want to pack my large camera around the island. Plus iPhones take such good pics anyways.)
2 sundresses (Small items like sleeveless sundresses take up such little space in your bag.)
1 maxi dress (I ended up wearing this dress home because it was so comfortable but I also wore it out to dinner in the evening twice-best item I brought and probably could have used two.)
1 pair of white pants (I wore these on the plane to Key West and again one evening and one day out. I get chilly very easily in the evenings when the ocean breeze kicks up.)
1 pair of shorts
3 tank shirts
Small cross body purse (I only brought the bare essentials. Gum. Lotion. Germ-x. Small wallet with debit card, ID, and cash. EOS. It was so easy and light to carry day or night)
1 pair of flip flops (I messed up big time here. I brought my $2.50 pair from Target. Listen closely, DO NOT BRING A CHEAP PAIR OF FLOPS THAT YOU PLAN TO WEAR DAILY IN KEY WEST. You will need a sturdy, comfortable pair. You will be doing a lot of walking/bicycling. I should have known better. I got a blister on the inside of my toe the first day. By the last day, my feet were screaming at me. Those flops are now in the trash can.)
1 pair of wedges (You can skip the wedges but I like to wear mine some evenings out. I wore them on the flight there so they wouldn't take up space in my bag.)
Running gear (I brought my running shoes, 2 pairs of socks, sports bra, running shirt and shorts. I went for 3 runs and Key West runs are the best. It also helps get your day off to a better start to go for a nice run.)
Beach mat (I bought a large 2 person foldable beach mat at Target before our trip. I only got to use it once because we didn't have many good beach days. I thought it was useful but definitely not a necessity and it did take up a lot of room in my suitcase.)
Jewelry (A couple pieces that worked good with every outfit I brought.)
Swim suits (I brought two.)
The actual packing of the bag.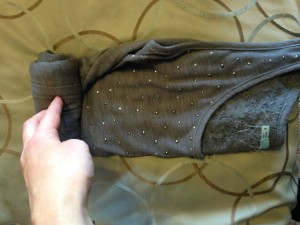 Now, I also used a completely different packing method than my norm. You've heard of the roll method right? Rolling your clothes is supposed to take up less space and keep your clothes from getting wrinkled. I thought this trip was the perfect one to test this method. And survey says……..
Yes. This method works much better than the traditional folding system. I found there to be both less wrinkling of my clothes and much more space in my bag. I rolled my running shorts, shirt, and sports bra and fit those three items in my running shoes. I rolled my shirts, my shorts, my dresses-space saver!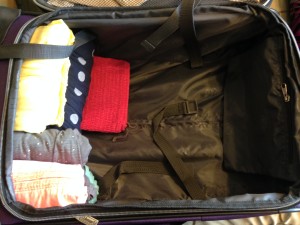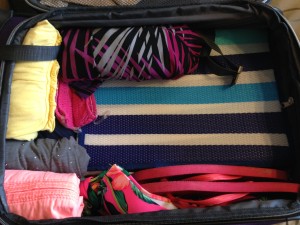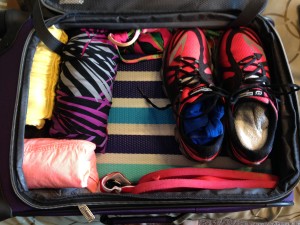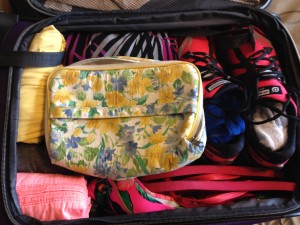 I also packed a large Ziploc with my liquids. I had my shampoo, conditioner, etcetera etcetera but I also brought a Tide shout out pen and 3 Tide travel packs in anticipation of doing hand washing for re-wear some of my clothes. Thank goodness the house had an unexpected washer and dryer! I didn't have to hand wash at all but we did do quite a few loads of laundry after all.