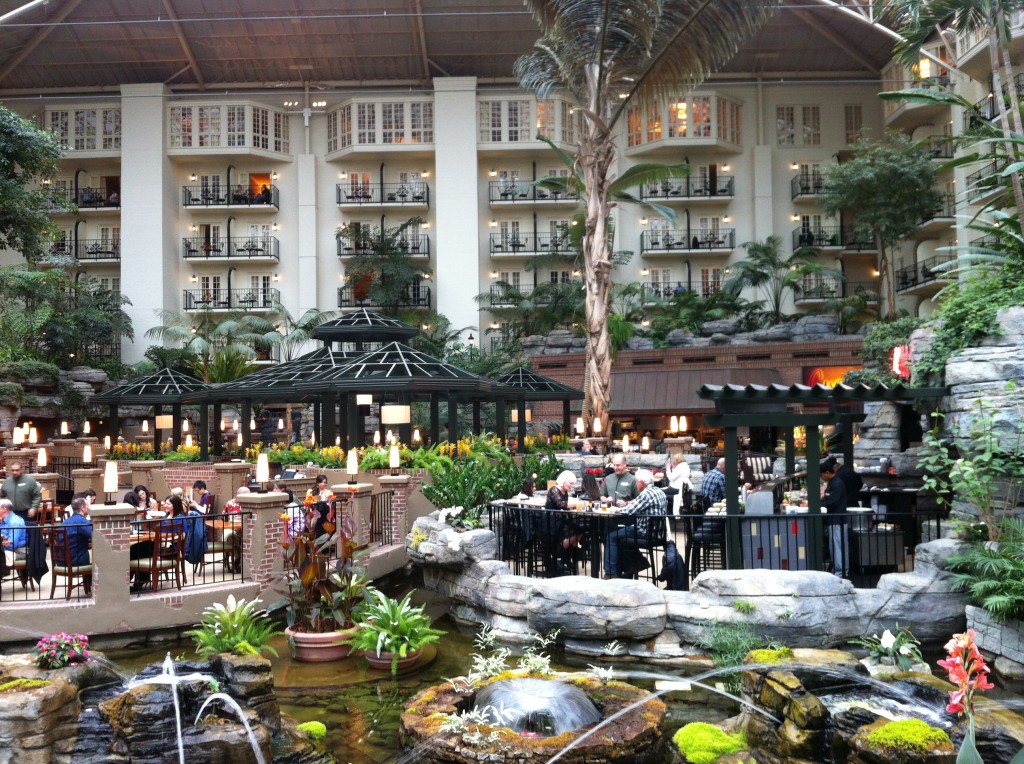 Okay. I've told you about the majesty of the Opryland Hotel. I've detailed the beautiful atriums, the entertaining water shows, the comfy bed, the fancy room…..
I just don't think I'd be doing justice to the purpose of my blog if I didn't tell you about all the times I wanted to yell at the staff like a mad, Mid-Missouri banshee.
The resort is huge. I mean, 600,000+ square feet of huge. Huge on the inside and huge on the outside. It's kind of like herdin' cattle just to get your vehicle in line for the "check-in". But wait, poor, young lad standing in the pouring down rain. What's that? We now have to drive all the way to the other side of the property to the Delta Portico to unload our luggage? Then drive to tim-buk-two to find a parking space. THEN, haul ourselves through the madness to the check-in area, wherever it may be by that time??!? Ugh.
So, the hubbs followed the signs leading us to the Delta Portico. The wet boy out front told us there would be a bellhop there to bring our luggage to the appropriate area. There was nobody. Nobody! No luggage cart and a big fat nobody.
Guess where to now? That's right. Back in the cattle herdin' line. $20 to self park and $26 for valet parking. Hold up. I've just spent $320 to stay the night in your fancy hotel and now I've got to give you an extra $20 to allow MYSELF to park MY CAR. Are you kidding me?!?!?!
Mind you, we STILL have Sweet Baby O and luggage with us. After we finally find a parking spot on the back 40, we load ourselves and Olivia up and trek through the great unknown to the check-in.
That gal was friendly. I'll give her that. We told her about the Delta Portico incident. She apologized. We were given a map and directions on how to get to our room.
We walked through the atrium to the elevator. Up to the 6th floor. Down the corridor towards the room number. And we walked and walked. Wait. We're going the wrong way. Crap. Turnaround.
Of course we're still packing all of our junk. I finally figured out that each atrium has themed carpeting and that made the place a little more navigable.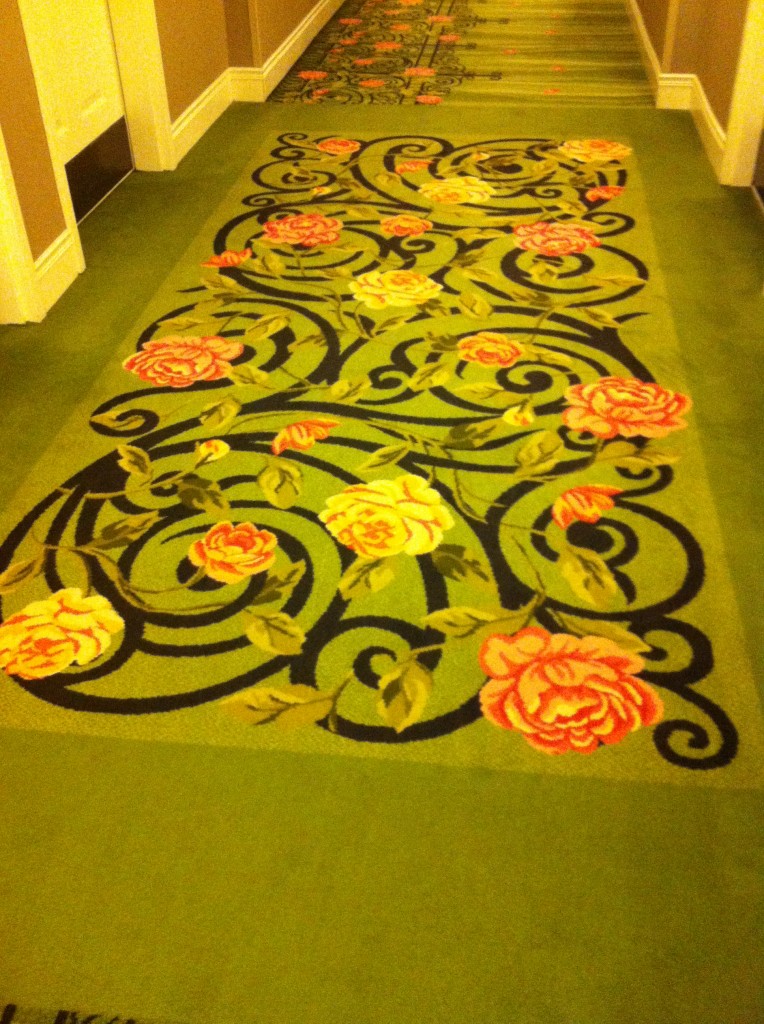 We had booked a balcony suite in hopes of getting a suite. With a balcony. We got a suite with a window. Definitely not what we were wanting but the hotel was full they said that's all they had left. Our room was completely gorgeous, and clean, and spacious. Still, I wanted to drink my morning coffee on my balcony overlooking the atrium! Oh well, maybe next time.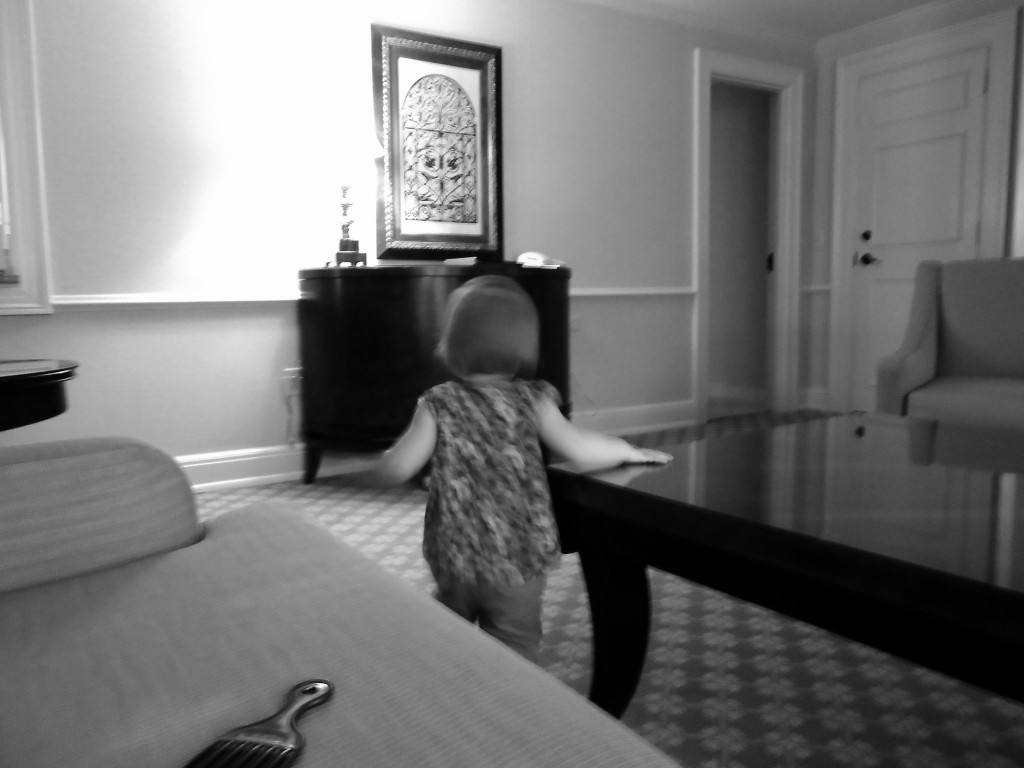 There were so many people at the hotel that particular weekend. Prom-goers had completely permeated the premises. Now, I did enjoy seeing all the pretty dresses and everyone's excitement but having to constantly dodge Mom's fancy camera started to get a little annoying.
One of the big reasons we wanted to stay at the Opryland Hotel is that we knew we could show Olivia around and hopefully keep her entertained inside the resort. The paths through the atriums are NOT AT ALL stroller or handicapped friendly. Or accessible. It's a little ridiculous. Would it kill you to put some ramps in???
The signs inside were about as clear as mud relaying directions. I don't know how many people we encountered that said, "Man, it feels like you just keep walking in circles around this place!" Well, if they'd put up some better signage, maybe people wouldn't have to spend all day deciphering "Left?" or "Right?"
For breakfast, there was only one restaurant in the whole resort open. When you book your stay, you can have an additional fee of $30 added for breakfast. We thought that was nonsense. $30 for breakfast? Well, they got us because that's exactly what we paid. They have a buffet, which was actually very tasty and had a good selection of food. We were thankful we got in line at a good time with only a 20 minute wait. We got our number and walked around a bit. When we came back, they were telling folks the wait was up to one hour! Since they only have the one restaurant open, they sure don't leave you much option now, do they?
There. I've gotten it off my chest. I do feel better, thank you.
All in all, we really did enjoy our stay. Our room was completely gorgeous and comfortable and spacious. And of course, the gardens are just so breathtaking that we'd do all this nonsense again. I do recommend this hotel. Even if you aren't staying the night, if you're in Nashville, it's a great site (or sight? Hmm. Either way, I guess) to see.
If you see that drenched boy out front, would you please pass along the word that THERE IS NOBODY AT THE DELTA PORTICO TO HELP US WITH OUR LUGGAGE!
What's been your greatest pet peeve relating to a hotel stay?
Pan, The Gravel-Roadin' Guru