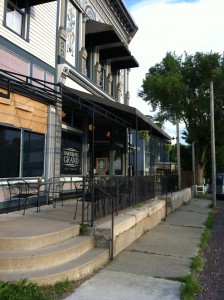 Several years ago when the hubs and I were making one of our notorious drives through the countryside searching for land to purchase and make our "home" we drove through Hartsburg, Missouri . It just so happened that it was dinner time, and it just so happened that we were super hungry, and it just so happened that this perfect little restaurant happened to be open. It took no thought at all for us to veer in and grab a bite to eat. (Coincidentally, we eventually ended up finding a beautiful piece of land just one mile up the road from this restaurant)
Since this first Hartsburg Grand encounter, the restaurant shut down and was vacant for some time and recently reopened under new ownership. For about 6 months they didn't have their liquor license which was a major let down but they finally got that under their belt and are ready to go with a good selection of beers, wines, and some liquor for mixed cocktails.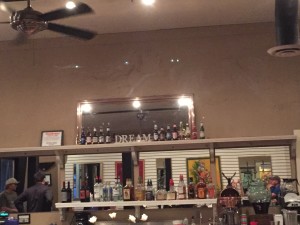 For me, a restaurant isn't just about the meal that's served but it's more of what they can offer in terms of a "trifecta" of an experience. Not only do you want the obvious: a delicious, unique meal. But for me and the hubs, we want good service and last but definitely not least (probably the most important to me) is the atmosphere. A dining setting that is as unique as the food they serve sets a restaurant apart from all the others.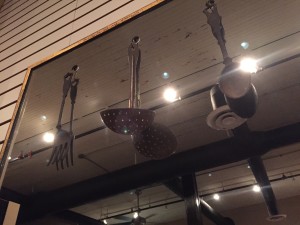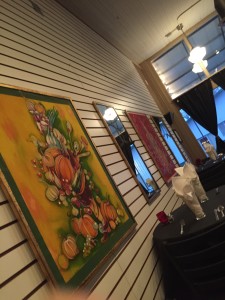 The Hartsburg Grand delivers the trifecta to a T! With the restaurant being housed in a two-story century old building, the character and the architecture is something that can't be duplicated. The restaurant is small but has vast ceilings and an open dining room. Each table is set specially for each customer with a formal black tablecloth and white, linen napkins adorning each glass. At first glance, this may seem a fancy-pants setting but they welcome every cyclist off the Katy Trail and even us with our two crazy kiddos.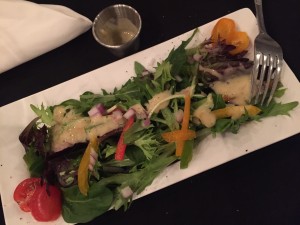 I started my last meal off with a beautiful arrangement of a side salad with the house dressing. It ended something like this….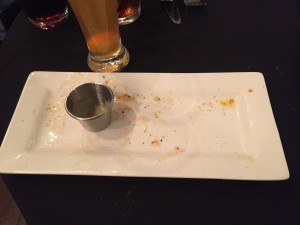 Need I say more??
The penne pasta with large shrimp was the ticket for the night, even though I usually stray from ordering pasta dishes. Whatever led my decision in choosing the pasta was definitely on the right track. The shrimp were large and meaty with unbelievable flavor. The white sauce was undeniably made by a pro and was the perfect concoction of cream and spices that blended together to form a taste out of this world!! I ate every last morsel.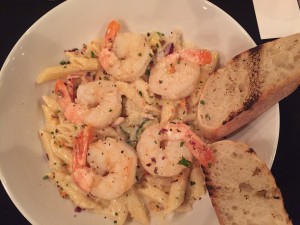 Robby chose the steak and potato dinner. He was very pleased as well but did mention that he should have ordered the pasta (I'm not kidding, it was seriously that good!)
On another day altogether, we did end up stopping in for lunch and had the standard burger and fries for both me and the hubs and also a mini-burger for the kiddos.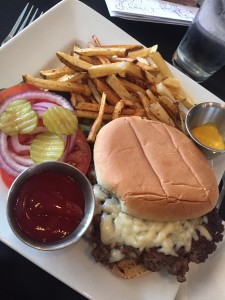 I don't know what else to say besides the fact that is was just another plate of deliciousness served to us by another friendly waitress in the same perfect setting. Bliss. Pure edible bliss.
The Hartsburg Grand does have somewhat strange and potentially unpredictable hours so I would call before making plans to venture out our way. Their number is 573-657-1414 and even though there is a website at www.hartsburggrand.net it's not truly for the restaurant. It's for the "event center" portion of the place which is the theater upstairs and the Grand Station just to the side of the restaurant.
If you make it there, be sure and let me know what you had and what you thought! I'm certain you won't be disappointed!!
Happy eating, Pan