I can't stop myself. I have been back in Missouri for well over a month now and yet I keep dwelling on Key West. Well, I wouldn't really call it dwelling. I would call it reliving my vacation to the best place on Earth over and over and over again and dreaming about when I can go back. It doesn't help that it has rained nearly every second of every single day since we've gotten back. Uuuuggghhh.
Now, even though I love KW incredibly, I am willing to admit that it isn't synonymous with fantastic beaches. If you're in the states and you want a great beach you'll probably head to Myrtle Beach, Outer Banks, Gulf Shores or Cali when you're on the West Coast. But it's not Key West's fault. The Florida Keys are protected by the World's Third Largest Barrier Reef, hindering the natural tides to bring sand up to the shores. Therefore there are no natural beaches in Key West, only man-made beaches.
I was more impressed with the beaches this time than either of my last two trips and chose a different one as my "fav" on the island than I had previously. Don't let this deter you from vacationing here, it's beautiful and fun and perfect and you'd be silly not to visit just because the beaches are not pristine. So go already!
SMATHERS BEACH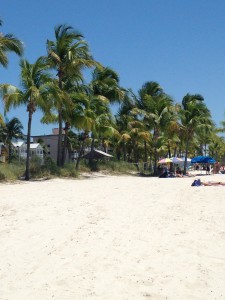 Smathers Beach redeemed itself for me this trip. Both prior trips I had been pretty unimpressed but either my likings or the beach changed and I am officially announcing Smathers as My Favorite Key West Beach. The sand was clean and had the right amount of squishiness and warmth between my toes. The water was beautiful and had just the right amount of "kqeshhh" to it when it hit the shore. The only downfall is lack of concessions so BYOB to Smathers (I should technically tell you that there are signs posted for no alcohol on the beaches but I saw it happening and come on, you're in Key West!). There are a couple vendors on the street selling snack-y type food and one of the watersports stands sold bottled water. The hubs and friends rented a volleyball and played a couple games with some folks while me and the gals got our sun on.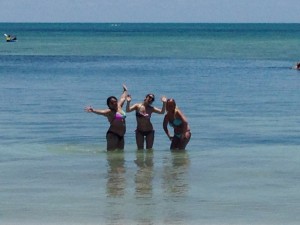 FORT ZACHARY TAYLOR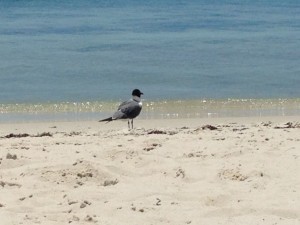 This beach is my old favorite on the island. I dubbed it my favorite because the views are great and there is a concession stand that sells beer and food. It's been downgraded but still has good qualities that have their own place in my heart. Fort Zachary Taylor is on the southwestern tip of the island and is rocky as all get out. You should plan to wear some sort of water shoe even when you get in the water because it is unrelenting. Don't get me all wrong here, there are still reasons to head there. From this beach we saw dolphins frolicking in the ocean. We had herons nosediving for food right in front of us. We waded in the water with thousands upon thousands of tiny minnows swimming all around us. So while the sand isn't to my liking, the activity of marine life should be enjoyed. And, if you're into forts, you can check that out while you're there.
HIGGS BEACH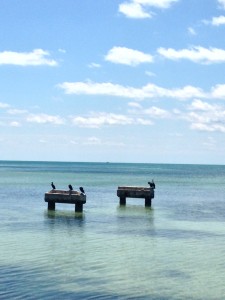 Further down from Smathers Beach is Higgs Beach. We didn't spend much time here but did bicycle by many times. It's smaller than Smathers but looks pretty comparable in the areas of sand squishiness and water "kqeshhiness". Watersports available. Sorry, no concessions here either except there is a restaurant, Salute! On The Beach, that we've heard is quite good but have yet to have personally tried it.
DOG BEACH
Dog Beach is exactly that. A beach for dogs. It's small but for the people who have dogs on the island or vacation with their dogs, there ya go. Annnddd, that's all you need to know about Dog Beach. Moving on…
SOUTH BEACH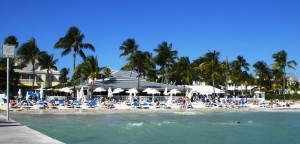 South beach is located on the Southernmost end of Duval. It's a small beach (I mean very small) but clean and nice for when you just want to relax and soak up some sun. There is a little walk-in only restaurant there, Southernmost Beach Cafe, which is perfect for grabbing lunch and drinks when you need. We walked down to the restaurant one morning and had a fantastic breakfast!
REST BEACH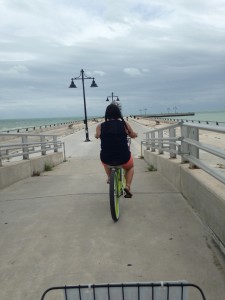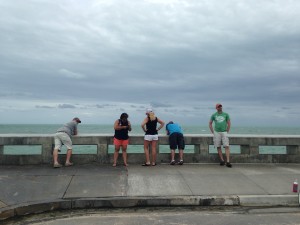 Rest Beach is at the southern end of White Street, sandwiched in between Higgs Beach and Smathers Beach. It's a small beach with nice sand but the big draw is the super long, White Street Pier, perfect for fishing from.
PIER HOUSE HOTEL PRIVATE BEACH
Our first trip to KW, we stayed at the Pier House Hotel. It's absolutely beautiful but the big draw is the private beach and bar. This beach isn't advertised of course because of where it is and you have to be a guest at the hotel to use the beach. But I wanted to put this in the mix because I do know about it.
Happy Key West beaching!
Which Key West beach is your favorite? If you haven't been to Key West, which beach in the US in your favorite?
Pan, The Gravel-Roadin' Guru